International Registry of Seismograph Stations (IR)
The International Seismograph Station Registry (IR) has been jointly maintained by the ISC and the World Data Center for Seismology (NEIC/USGS) since the 1960s. At present there are over 26000 (including those already closed) with globally unique codes registered in the IR:
Sponsored by: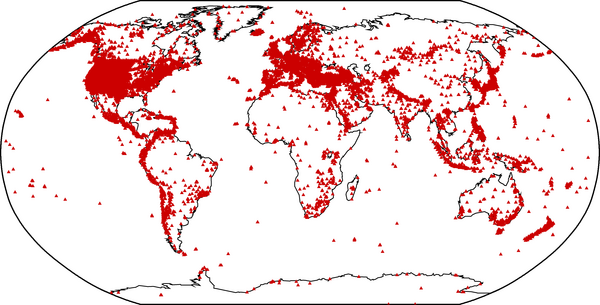 The ISC and NEIC are currently making plans for a major update of the IR to include the new IASPEI station coding standard (Agency.Deployment.Station.Location.Channel). This work is being done with input from the EMSC and FDSN.
The station book may be searched by station codes, or by defining a search region.
As an alternative to the search page, the listings page categorises stations by:
station code (A-Z)
station name (A-Z)
geographic region
A
complete list
of stations is also available (~2 Mb is size).
To view stations in google earth, the station list is available as a KMZ file.
Full station XML download
As part of the ISC migration to the Agency.Deployment.Station.Location (ADSL) naming convention we have provided a combined IR & FDSN station list in both stationxml and tex t format, downloadable using the links below. All other station listings and searches on the ISC website are currently limited to IR only. We anticipate that the station listings and searches sh ould be updated to include FDSN stations by 2024. FDSN station coordinates and operational times are obtained using the FDSN web service (http://www.fdsn .org/webservices).
Please note that depth and elevation are compulsary in stationXML so have to be set to 0 when not known.
The text file has data for Network, Station, Latitude, Longitude, Elevation, Channel, Location, Opendate, Closedate and Sitename.
Station registration
New stations should be registered on the registration page.